Immigration Requirements To Enter The United States
Every foreign visitor arriving in the United States must have a valid passport. However, it is not the only requirement to step on American soil. Others need a Visa and go through the immigration process before they can enter the country.
Therefore, you must know what the immigration procedure entails, fulfill several requirements, pay fees, and have your application approved by the U.S. government to be allowed entrance into the country. Thoroughly and carefully doing so can help you avoid complications and costly mistakes.
Immigrant Vs. Nonimmigrant Visas
Individuals wanting to move permanently to the United States must apply for an immigrant Visa, which carries various privileges. Some examples are employment and a route to U.S. citizenship.
However, the application process can be costly and time-consuming. So instead, some people use transitory Visas to go to the United States to visit, work, or study. These nonimmigrant Visas are frequently renewable and valid for many visits, which may enable you to stay in the country for several months or years.
Some individuals initially get temporary Visas, such as F-1 or J-1 student Visas. If you are currently ineligible for an immigrant Visa, consider whether a temporary permit can assist you in achieving your goals. 
Immigration Requirements For U.S. Visas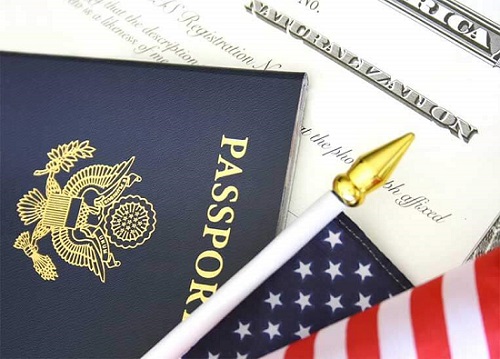 The process begins with having another individual sponsor or file the immigration petition for you. After receiving an approved sponsorship or petition, you can start applying for your immigrant Visa. 
Note that your country's U.S. embassy or consulate handles this procedure. So, it is essential to consult with them and ask for the requirements most applicable to your situation. These prerequisites include a medical examination, an interview, and a waiting period.
After submitting the immigration requirements, applicants must pay the application fee. However, these costs may not apply to all immigrants. For example, those who qualify as special immigrants from certain countries, returning lawful permanent residents, or children entering the country through the Hague or orphan adoption programs may be exempt.
Note that applicants fulfill various immigration requirements depending on different factors and the application process may be complicated because of this. Thus, it is crucial to have an immigration attorney assist you in navigating this complex procedure. 
Green Card Applications
For green card applications, the petitioner undergoes a background check. During this, they may need to provide police reports from previous residences and respond to inquiries regarding previous crimes.
Moreover, you must also pass a physical examination, during which you will answer questions on your mental health, drug and alcohol usage, and history of infectious diseases.
Family-Based Green Cards
If you want to apply for a family-based green card, you must have an immediate family member who already has a green card or is a permanent resident of the United States.
Moreover, you need a financial support affidavit from a person who will ensure you don't become impoverished after you enter the United States. At times, your sponsor will also act as your financial sponsor. 
However, if it is impossible, a different joint sponsor may agree to provide financial support. A joint sponsor is a green card holder or a U.S. citizen who volunteers as a financial co-sponsor for an applicant petitioning for a family-based green card. In either case, the household income of your financial sponsor must be at least 125% of the federal poverty guidelines.
For instance, you can apply for a family-based green card if your sponsor is your spouse, unmarried child over 21 years old, or parent who is a U.S. citizen. On the other hand, if you are not an immediate relative of your sponsor, you can apply for a family preference green card.
Unlike immigrant Visas for immediate relatives, applying for family preference green cards may take a longer waiting period because the governm
ent only gives a limited number each year. The time you must wait depends on your category and might range from a year to a decade.
Employment-Based Green Cards
Applicants of employment-based green cards generally need a specific U.S. employer that will serve as a sponsor. Otherwise, you must prove your exceptional abilities and training in your desired area.
Moreover, you must fulfill the requirements for your particular category. For example, by presenting proof of your education, training, and any national or global awards you may have to qualify for an EB-1 or EB-2 Visa.
Other than a petition or sponsor, you'll need labor certification for EB-2 and EB-3 Visas to demonstrate that you are an indispensable asset in this particular field. 
Complex regulations govern different Visa categories individuals may apply for. Therefore, consulting an immigration lawyer is essential in pursuing these Visa categories.
The Application Process
The application procedure differs depending on where you currently reside. For instance, if you are already in the U.S., you can submit your application and stay while the government reviews your petition for adjustment of status (AOS).
On the other hand, if you currently reside outside of the United States, you generally submit your green card application from your home country and wait while the American embassy or consulate processes it.
Both have advantages and disadvantages. The procedure for applying for a green card usually involves the same fundamental steps. 
Step 1: Your Sponsor Submits The Petition
To begin the immigration procedure, your sponsor needs to submit a petition to the American authorities. Family-based green card applications require Form I-130, establishing your relation to the sponsoring relative. Meanwhile, employment-based applications demand Form I-140.
In some circumstances, you can submit your petition and green card application simultaneously to simplify the process. However, you must understand the process of concurrent filing first to see if the method applies to you. Seek help from an immigration lawyer to ensure that the necessary steps are followed. 
Step 2: Form I-485 Or DS-260
After the USCIS reviews and approves your application, submit your Form I-485 if you are currently in the United States or Form DS-260 if you are applying from outside the country. Your sponsor will also submit Form I-864, pledging their financial support if you apply for a family-based green card.
Step 3: Biometrics Appointment
USCIS will process your application and mail you the information for a biometrics appointment if you are currently in the United States. On the other hand, your local consulate will take your biometrics at the consular interview. In both situations, you need a medical exam as part of the application process.
Step 4: In-Person Interview
An in-person interview is a crucial step for both application processes. You will receive a notice detailing your interview schedule at a USCIS office if you are applying from within the United States or the U.S. consulate if you are currently outside the country.
Step 5: Approval Or Rejection
After the interview, you'll learn whether the government approved your application. If approved, you will obtain your green card via mail if you're currently in the United States. Otherwise, authorities will return your passport with a Visa allowing you to enter the country. In this case, the government will send your green card to your U.S. address once you arrive.
Waiting Period
Depending on the particulars of your situation, the time it takes to obtain a green card can differ. For instance, if you're applying for a marriage green card, you can anticipate receiving it in a matter of months. However, the waiting period for other family-based green cards can be longer. Meanwhile, the anticipated wait time for an employment-based green card depends on your category.
How Lincoln-Goldfinch Law Helps
Learn about U.S. immigration guidelines and seek the advice of an immigration attorney if you're applying for a green card or you're an immigrant experiencing problems entering or staying in the country. First, however, you should learn what an attorney can do for you before making that decision.
Your immigration lawyer submits the required papers on your behalf. If the government approves your application, they can guide you in adjusting your status in the United States. However, if the government rejects it, your attorney can submit an appeal.
If you need to make any appeal concerning immigration, your attorney fights on your behalf and gathers any evidence that will help your case. Therefore, hiring an immigration lawyer is essential in winning your case because immigration regulations can be challenging and continuously changing.
However, it helps to carefully consider a few things before choosing an immigration attorney. To start, be sure that your immigration lawyer has a strong foundation and relevant experience in immigration law. It would also be preferable to look for a lawyer familiar with the immigration rules applicable to your case.
Lincoln-Goldfinch Law in Austin TX handles immigration-related cases. The firm is home to experienced immigration attorneys who can assist you as you apply for a Visa or a green card. 
Lincoln-Goldfinch Law's team of skilled immigration lawyers is compassionate and professional. They attentively listen to each client's needs and help them navigate the complex application process in an efficient way. Let Lincoln-Goldfinch Law assist you as you achieve your goals of stepping on American soil.
Get Help From An U.S Immigration Attorney
Austin Office
Lincoln-Goldfinch Law
1005 E 40th St
Austin, TX 78751

Waco Office
Lincoln-Goldfinch Law
1616 Austin Avenue, Suite A
Waco, TX 76701
By Appointment Only