When Can I Become A U.S. Citizen?
"El Show Sin Fronteras"
Spanish Video Above Translated In English Below
Why Should I Hire A Lawyer To Obtain My Citizenship?
The naturalization process is for permanent residents who want to apply for citizenship, it is different from other types of citizenship, such as people who were born in the United States or maybe were born outside the United States but whose parents are U.S. citizens.
There is a way to pass on citizenship to a child born outside the country, but when we are talking about the naturalization process, it is a part where first, making sure that the person qualifies, and then sending an application to immigration, is a form of more than 20 pages of information about the applicant's history and eligibility.
Then, there is an appointment for fingerprinting, and at the end, there is an interview with an immigration officer, who will review the applicant's entire history, from the first entry into the United States, and the applicant will have to take a test where they will have to answer an amount of questions, read and write everything in English if they don't qualify for an exception.
This can be a very stressful and lengthy process, but the most important thing is to have an attorney review your case from the beginning, to make sure that on the day of application that person will qualify for the benefit, counting the days outside the U.S., reviewing all incidents at the border with the police, reviewing how to adjust your immigration status, and then filling out the form correctly without errors, fraud or lies.
Then it's time to prepare for the interview at the end.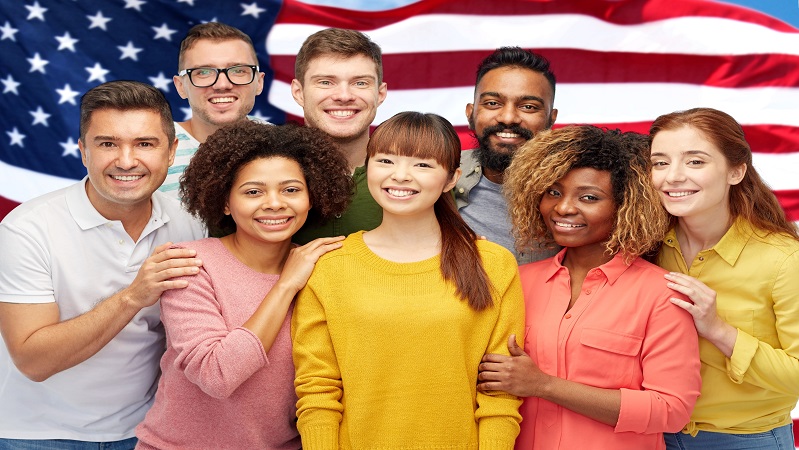 For example, we always go to the interviews with our clients, we never and never will leave our clients in the hands of immigration without a legal representative, that is why we always go to the interviews with our clients.
It is very important throughout the immigration process to have an immigration attorney who is qualified to handle your case, and to be successful at the end of the day.
How Many Immigrants Have Become U.S. Citizens?
A study conducted by the U.S. Economic Policy Institute shows that immigrants who become U.S. citizens have an increase in income of up to 11 percent, that is, an extra 5 percent increase after 5 years of citizenship.
Unfortunately, if we analyze the statistics, conversion rates to U.S. citizens are low. There are more than 7 million people in the United States who could qualify to become citizens, but on average, the USCIS immigration agency receives about 700,000 applications a year. This indicates that the rates are very low.
At the same time, it is estimated that if at least half of the 7 million eligible people become citizens, they would contribute as much as $45 trillion to the U.S. economy over 10 years.
Is It Difficult To Take The U.S. Citizenship Test?
It is not difficult, in fact, depending on their age, they are given a list of possible questions.
For the regular exam, there are only 100 questions that the U.S. Government can use, and in the interview, the officer will choose ten questions from the list and the applicant must answer six of the ten questions correctly.
We have not had a single client lose or fail their exam based only on the questions.
In Lincoln-Goldfinch Law's experience, the most difficult thing for our clients is not the selection of answers because you can prepare, you can study, but the truth is that it is the English language.
We have many clients who don't speak or feel very comfortable speaking English, or many do the internship during the year-long wait for the interview.
It is normal for everyone to be nervous at the time of the interview, it is difficult to walk into the office and wait 30 minutes or an hour for the officer to approach and shout your name.
Then, you have to walk to the room with the officer, sit down, watch them review your case, review your forms, and then you have to answer the questions, and for people who are not fluent in English, it is more difficult to remember, understand or speak in this second language.
It is very important that they practice the language and not just the questions, because that part is easy, you are given a list of questions, questions that are easy to answer or study.
What is difficult is their history, the information that has been provided on their form, which deals with all the children and their addresses, their own addresses for the last five years, the jobs they have had, the questions about their criminal history, and all that conversation is going to be in English.
If the officer thinks that the person is not understanding the questions and is just saying words like "no, no", they will ask you what the question means, and you will have to be able to explain it.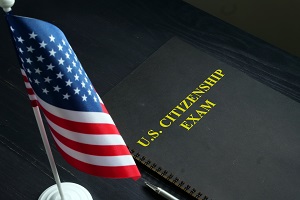 It is very important to clarify that if someone is planning on applying for citizenship, and they cannot speak English easily, they should study the test questions and their form, which is their citizenship application, that is the N-400 form, and also, to be able to discuss all that information in English.
How Many Times Can I Take The Citizenship Test?
The interviewing officers should not give you more than one chance, so if your answer is incorrect, it is not likely that they will give you another chance.
You only have to answer six questions on the exam, but for example, if someone does not speak enough English to pass, or has not passed the exam because they cannot answer all six questions correctly, they are given one more interview.
There are two chances to pass the citizenship test, and if the case is denied, you can immediately reapply.
You can keep applying and applying, but you have to pay the fee each time you apply, so it is worth it to apply for citizenship and take advantage of that waiting time which is going to be up to a year.
Sometimes it is faster and especially in election years, like this year for example, but normally, you will have at least six months to prepare, and you have to take advantage of that time to practice your English, to study the questions.
There are many classes and organizations, and city libraries that do offer classes and courses specifically on citizenship cases.
There is a way to access this free help in the city of Austin and also in Waco.
Can I Have Dual Citizenship In The U.S.?
It is possible to have double or triple citizenship, we have many clients that for example are from Mexico, they want to retire in their country of origin but first, they want to obtain the American citizenship, because one of the benefits is that you can live anywhere in the world after you become a U.S. citizen.
A permanent resident must maintain at their principal home here in this country, and may not leave for more than six months on a trip without special permission.
If they want to be able to live in other parts of the world, it is worth getting their citizenship to have that freedom, but there are more benefits.
For example, people who have U.S. citizenship cannot be deported, and that is a very huge benefit.
A person who became a U.S. citizen may petition for their siblings and parents.
A child who is an adult can petition for their immigrant parents to enter the United States, and that is a very important benefit for many people.
Also, another benefit is that people who obtain their citizenship will be able to vote in elections, whether local, state, or federal.
As we have seen in recent years, these are times when your vote counts in elections, and they are more important than in the past, so you will probably make this the biggest benefit.
Can I Apply For Citizenship If I Don't Know English?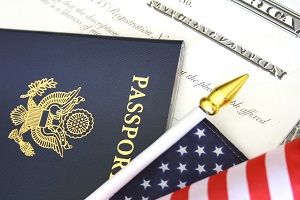 There are ways to qualify to take the citizenship test in your language. We can think of the 50-20 rule, or 55-15, the rule says that if someone who is a permanent resident is over 50 years of age and has over 20 years with residency, could take the test in their own language.
Likewise, a resident over 55 years of age who has had a residency for more than 15 years may also take the test in their language.
There are two ways to take the exam in Spanish, but the person must qualify to take the exam in Spanish.
The advice for people who have permanent residency but are not yet old enough or long enough to stay in the United States, those people should study English and see if they can and have the desire to do so because that waiting time is worth it to learn what is necessary to pass that exam.
You don't have to speak like an American person, but remember that you must be able to take the test and discuss the form you filled out, your immigration history, your criminal record, family information, your jobs, and your address.
Can I Have A Criminal Record & Obtain My Citizenship?
To qualify for the citizenship order to qualify for citizenship, it must be proven that the person has been of good moral character during those five years.
Unfortunately, we do not have a definition for the citizenship test of what is a good moral character, the truth is something that depends on the culture of the office, the city, the immigration service, and where you are going to apply.
We are located in Austin and Waco, and all of our clients go to the San Antonio office and they specifically don't want to see one arrest in the last five years.
We have been very successful with clients who have been arrested but were not charged, or the charges were for two months because it was a mistake on the part of the police, and if we can prove something like that, of course, it is worth applying for citizenship.
For example, if someone was arrested for DWI and the charges were dropped, in the eyes of immigration they will reject good moral character if the incident occurred within the last five years.
The date is the date of the incident, not the date of the last court or the date of the Parole, depending on the case, all those who have or have had contact with the police should consult with us or with an attorney before applying for citizenship.
Normally, if there has been an arrest and charges within the last five years, it will be best to wait until five years have passed after the arrest.
Doesn't It Matter What Immigration Process I Used To Obtain My Residency To Apply For Citizenship?
It does not matter how you had your residency, but they will review that manner and make sure that there was no fraud in the case.
We have had clients who received their residency through fraud and they tell us the truth.
In these cases, we advise them that it is not worth applying for citizenship, because it is a process where they are going to review absolutely all of their immigration history, and the way they adjust their status is important, but on their part, there is no shame or concern if someone arranged for asylum, they don't care if everything was legal without fraud.
If you have further questions about the exam, your permanent residency, or your specific case, you may contact us at (855) 502-0555. After a brief 10-minute evaluation of your case over the phone, we will let you know what options you have. You can also follow us on our social networks so you don't miss our weekly broadcasts on Facebook, YouTube, and Twitch.
Frequently Asked Questions About Citizenship Test
Share this story!
Contact a U.S. Immigration Attorney Today!
How To Find Us
Austin Office
Lincoln-Goldfinch Law
1005 E 40th St
Austin, TX 78751

Waco Office
Lincoln-Goldfinch Law
1616 Austin Avenue, Suite A
Waco, TX 76701
By Appointment Only
What Our Clients Say
"This Lawfirm is great, very professional and helpful. I love that they are always in communication and always available for when you have questions . 100% recommended by me and my family. Thank you Lincoln-Goldfinch Law"