Do I Have To Leave The Country To Get My Green Card?
"El Show Sin Fronteras"
Spanish Video Above Translated In English Below
Does My Family Have To Leave When Going Through Consular Processing?
When a person who is a petitioner in the immigration process of a Green Card, in this case, a husband and U.S. citizen, must first petition for his wife and stepson, who are from another country of origin.
They are performing the Consular Process which is the method to obtain permanent residency while outside the United States, and it begins with the I-130 form which is the family petition, wherein that case it must be proven that this is a bona fide relationship/marriage and that the petitioner has U.S. citizenship.
If the mother and stepchild have been in the United States without permission, the mother, being of legal age, will need a waiver for unlawful presence in the country.
In this example the individuals completed the I-130 form and made the waiver that the mother needed, they are now in the third step which is the appointment at the Consulate, where she and her son will have to leave the United States with their I-130 form, their waiver approval, copies of their documents already filed with the National Visa Center, the petitioner's income, civil documents, the S-260 form, and all other documents that may be required.
They will have to leave the United States and present themselves for their appointment at the Consulate in their country of origin, if they are Mexican they will have to present themselves at the U.S. Consulate in Ciudad Juarez, for example.
In the case of the child, it should be noted that in order to obtain the Green Card, each applicant must pop up at the Consulate appointment, but if someone is adjusting status within the United States, the person must still appear at the immigration appointment.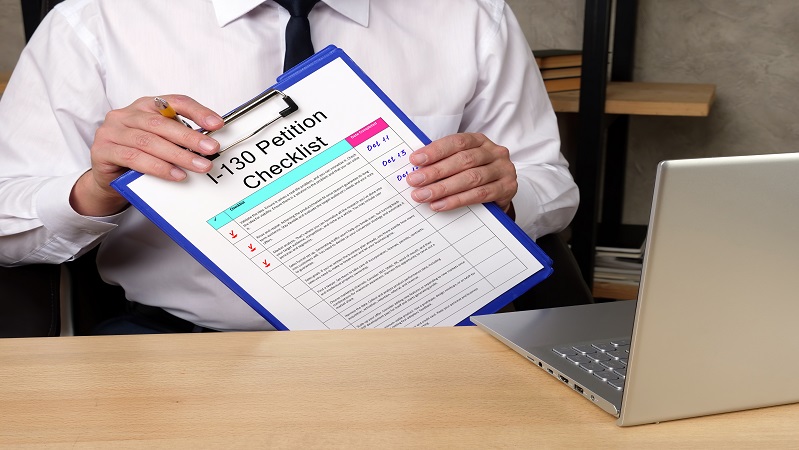 All members of the family must report to the Consulate or to immigration.
Asylum & Consular Processing
There are people who can fix without leaving the United States, and there are 4 ways to do so.
When we are talking about a family petition between a petitioner and a beneficiary, the person must be an immediate relative of a U.S. citizen and that person must also have entered the country with his or her Visa.
If the person is a relative of a person who has served in the Armed Forces, that person can file a type of case called Parole in Place.
When the person was petitioned before April 30, 2001, he/she may apply for the 245-I program, aimed at persons who entered without Visas and were petitioned for 20 years ago but can now be arranged without leaving.
The fourth example is VAWA, (Violence Against Women Act) is the program for people who are family members of permanent residents or U.S. citizens who have suffered cruelty or abuse in the relationship between the marriage, with their parent or child, and want to settle in the United States without the help of their petitioner.
Those are the 4 ways to arrange without leaving the United States, the rest of the family members have to go through the Consulate even if they are already in the country.
In the example mentioned above, the man entered seeking Asylum and is now married to an American citizen, he entered without a Visa and therefore will have to process through the Consulate, because he does not qualify for any of the exceptions.
It is a somewhat complicated process because that person is asking for protection and cannot return to his or her country of origin.
These types of cases are very rare, but there are possibilities to schedule an appointment at the Consulate with a 3rd country so that the person does not need to return to his/her country of origin.
For example, if you are a person seeking asylum in Venezuela, it would be possible to schedule your appointment at the Consulate in Colombia in case it becomes necessary.
Updates On Permanent Bars
At the moment there is no change, we have had these permanent bars that are punishments since the change in the immigration law in 1996.
They are talking about punishments for people who are arranging for a job or a family petition, and those bars say that someone who has more than 6 years in the United States without permission, has to wait 3 years to return again to the country for 6 months.
It is 3 years of such punishment, but for someone who has been without a permit in the country for more than 11 years, they receive punishment for 10 years, but those 2 types of permanent bars have pardons available based on the petitioner's hardship, it all works that way.
Let's say a person who is in Mexico without a Visa married a U.S. citizen a year ago and now wants to arrange their papers, but has been in the U.S. for more than 6 months, he/she will be able to get married to a U.S. citizen.
The person is going to have to first file the I-130 form and then go ahead with the waiver to clear his unlawful presence in the country, to forgive the bar which is the punishment he has.
Such forgiveness is going to be based on the suffering in the petitioner's life, then the focus of the petitioner is changed since his or her story is being told.
Forgiveness Process
When you are working on a waiver, you tell the petitioner's story of why he cannot leave, why he cannot live without his wife here in the United States, he has his own children, he has a good job, he has an illness, he has his parents here and he has to take care of them because of their age or because of some illness, that is the pardon that we do in the second step, which is the Consular Process, and what we are forgiving are the bars for presence without permission in the United States explaining the reasons that support the petitioner's stay.
Unfortunately, there has been no change in the immigration laws applying to family petitions since 1996, but no one knows when we will see a change.
The Dangers Of The Consular Process
People in the Consular Process who have been living in the United States and have to think about separating their families are often very fearful, and this is a common occurrence in the immigrant community.
If it is a family where the parents have children born in the United States, they will have to send their family to the appointment in the City of Juarez without knowing if they will be able to return to the country again.
No one wants to go through that process, and at Lincoln-Goldfinch Law we focus on the safety of our clients and the details of their cases to ensure that they can return as soon as possible after their Consulate appointments.
It is true that there is insecurity in some countries, and for example in Ciudad Juarez with the cartels there, you have to be very careful where you stay, although for the Consulate in the City of Juarez is a very large area, where everything the petitioner needs is in one place, such as the hotel, the place where you will make your medical examination, the appointment to take your fingerprints, etc, everything is very close to that Consulate.
It is possible to arrive and stay in the same place for as long as you need to be there, without having to travel or move elsewhere.
Near the Consulate there is a person who has a guest house, it is a kind of inn, and they are 100% facilities for people who are executing this Consular Process, and our clients have commented to us that they felt safer staying there because of the information they have been able to obtain from the rest of the people staying in that house, although this is not something necessary, they can also stay in a hotel.
Another thing that is important to point out is that there are many scams around the Consulate.
There are people who are trying to offer people before they send their packages or their papers, that they are going to check it to corroborate that everything is in order, and they try to charge them money to "do something" with those documents, and it is a very important point that when you are already leaving and have the package ready that we have already given you (because we do a very long preparation appointment before our clients leave for their appointment) you don't need anything else, you don't have to hire anyone near the Consulate.
Although there are many people who try to tell you that you need to pass your office, that is totally false.
Do I Get My Green Card At The Consulate?
Currently, since this is something new when someone shows up for their appointment in the City of Juarez, there are 2 appointments that they must attend, the first day is to turn in all the documents that you collected, and then on the second day, the person has the appointment for the interview.
After the appointment at the Consulate, the employees take the passport from the applicant to place the stamp that they put with the Visa, and then they will send the package with the passport and the Visa in an envelope to a DHL office, that is what they do in Mexico, and you have to pick up the package in a range of 3 to 5 days approximately after your appointment.
It is a short waiting time where many applicants may feel nervous, but normally those people know what happened at their Consulate appointment and should just wait.
After you receive the package at DHL, there are instructions inside your package in an envelope that you should not open until you are going over the bridge, but once you have your package, it automatically means that you can fly or you can come over the bridge and go through immigration and then you can enter the United States without any problems.
You will have a Visa, which is a stamp that reflects your permanent residence in your passport, and with that you are a permanent resident of the United States after entering the country, but you have to request the Green Card, and for that you have to pay a fee that is equivalent to less than 200 dollars, and once that payment is made, the card will arrive at your home or at your lawyer's office.
What If My Consular Processing Goes Wrong?
This is something that usually happens to many people, it is something very common because many people make their Consular Process without the representation of a lawyer, or in the worst case, people who are hiring the service of supposed legal professionals who end up being notarios, and that is why there are many ways to make mistakes in your case.
The first way is to start with their strategy, because someone may not qualify for Consular Processing because they may have a permanent punishment, they may have committed fraud, they may have a criminal record, they may have tattoos that could implicate them to be part of a gang or cartel, or they have a problem and they can't do their waiver in the United States.
Normally, this is something that can be known at the beginning of the first consultation by the pre-qualification that is done at the time with that client.
When you are thinking about doing a Consular Process, even with these problems, we are thinking about that Consulate appointment at the end of the day, and many start the process knowing that they are not going to be able to make it.
Unfortunately, we have many inquiries where we have to say that it is not worth starting an immigration process because at the end of the day you are not going to qualify for the waiver you need, but there are many people who did their I-130 form without the help or with the help of a so-called "notario", and those people did not know that the applicant needed a waiver.
In that situation what can happen is that someone arrives for their interview not ready for their appointment at the Consulate, and they can deny that person the Visa, saying for example that you have a permanent penalty, that you need a fraud waiver, that your sponsor does not have enough income, that your paperwork is not done the right way, that your medical exam is overdue, etc.
Depending on the decision of the officer at the Consulate, there are times when we can go ahead with this process by requesting a pardon or appealing the decision, but there are also times when there is nothing we can do other than wait for the permanent bar, which is the sanction for people who have the permanent punishment, which is 10 years of waiting without being able to ask for a pardon to return to the country.
That is why it is very important to know how to work Consular Processing cases, more than in any other type of case, because when someone is leaving the United States to make their final passage, it is very important to be ready and have the help of an attorney who has a lot of experience in this type of case, because you cannot have mistakes in this type of immigration process.
In case there is any mistake, the consequence will be that your family will be separated, and that is why it is essential to consult with a lawyer, a legal professional, and not a notario, so that you know that your case will be done in the best way before you even have to leave the United States and may lose everything.
In case you have additional questions about family petitions,  your appointment at the Consulate, or about your specific case, you can contact us at (855) 502-0555. After a short 10 minute evaluation of your case over the phone we will let you know what options you have. You can also follow us on our social networks so as not to miss our weekly transmissions via Facebook, YouTube & Twitch.
Frequently Asked Questions About Green Cards
Share this story!
Contact a U.S. Immigration Attorney Today!
How To Find Us
Austin Office
Lincoln-Goldfinch Law
1005 E 40th St
Austin, TX 78751

Waco Office
Lincoln-Goldfinch Law
1616 Austin Avenue, Suite A
Waco, TX 76701
By Appointment Only
What Our Clients Say
"This Lawfirm is great, very professional and helpful. I love that they are always in communication and always available for when you have questions . 100% recommended by me and my family. Thank you Lincoln-Goldfinch Law"