What Is The 120-Day Rule For A U.S. Visa?
Have you heard about the 120-day Visa Rule, and you're wondering what it means? I'm Kate Lincoln-Goldfinch, your friendly immigration lawyer in Texas, here to answer all of your immigration questions.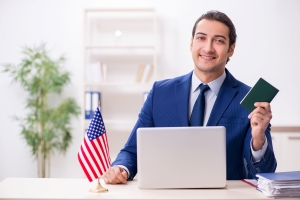 The 120-day rule is a rule that applies to two types of Visas, F1 and M1, which are student Visas and vocational Visas. So, on a student Visa, you can come to the U.S and study, even if you're in high school, for example, but all the way up through graduate and in university programs. With vocational schools, you can think about chef schools or even flying schools. You can do things that aren't in a typical university setting, for example.
With both of these types of Visas, the embassy or the Consulate of the United States in the country where you are residing is where you will get the Visa. And the Visa can be issued to the student up to 120 days before the start date for the program. That's the 120-day rule. So, that's a timing thing about when you apply and get your Visa before the program.
But it's also important to keep in mind that when you get a Visa to come to the United States, there are two points at which you get approved. One is at the consulate or the embassy, and the other is when you're actually entering the United States, which is usually with border patrol at the airport and/or CBP.
So, when you are coming in, you want to come in no more than 30 days before the start of your program. That should give you enough time to get in and get settled.
Summary
The 120-day rule is a valuable guideline for individuals applying for F1 and M1 Visas. It allows you to obtain your Visas up to 120 days before your program's start date. However, it's equally important to adhere to the 30-day rule when planning your entry into the United States. This will ensure a hassle-free transition into your educational or vocational journey. If you have any doubts or questions about your situation, you should consult with an immigration lawyer.
Share this story!
Contact a U.S. Immigration Attorney Today!
How To Find Us
Austin Office
Lincoln-Goldfinch Law
1005 E 40th St
Austin, TX 78751

Waco Office
Lincoln-Goldfinch Law
1616 Austin Avenue, Suite A
Waco, TX 76701
By Appointment Only
What Our Clients Say
"This Lawfirm is great, very professional and helpful. I love that they are always in communication and always available for when you have questions . 100% recommended by me and my family. Thank you Lincoln-Goldfinch Law"