Kate's Top 5 Travel Tips For Immigrants!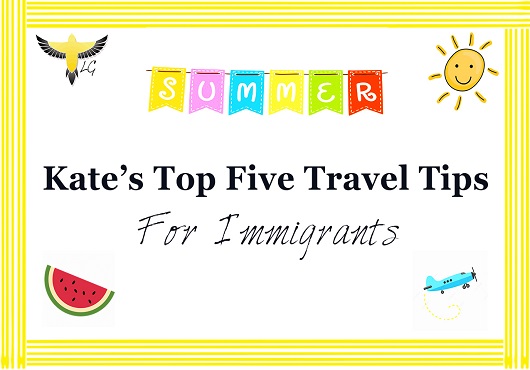 It's summertime in Texas!  That means swimming pools, cicadas, watermelon & peaches, and travel!  Here are some things to keep in mind as you plan your trips:
1.       If you are planning to visit the United States as a tourist, keep in mind that Customs and Border Protection Officers at the airport or land borders have the final say about whether you may enter.  They might search your bags, your phone, or your computer for evidence that you intend to violate the terms of your visa by working, attending public school, or marrying a US citizen (if you intend to stay in the US and apply for a greencard).  We have noticed an increase in denied entries at the airports by CBP officers to people from all countries and backgrounds.
2.       If you are a permanent resident and you are planning to leave the US on a trip, know that there are requirements for maintenance of your permanent resident status.  For example, you cannot commit certain crimes and you must maintain your primary residence in the United States.  If you are leaving the US for longer than six months in one journey, you should consider filing a reentry permit at least two months before your departure so that you can protect your status while you are away on a long trip.  Also, make sure that you have a clean criminal history before you leave.  Even if a criminal incident occurred many years ago and you have since traveled, it could still come up for the first time upon your next entry.  Before you go, you should consult with us about whether it is advisable to travel abroad.
3.       All noncitizens should be aware of checkpoints and know that you must present proof of status at the checkpoint.  For example, everyone who drives to South Padre and back into Central Texas will cross a checkpoint and noncitizens must show lawful status. CBP officers are often placed in airports in the interior of the country, not just at international airports.
4.       If you plan to travel internationally, plan ahead to make sure your documents are valid and won't expire while you are traveling.  Greencard renewals take several months to process.  In some cases, you can travel with an expired document and a receipt notice showing that your renewal is pending.  For example, if you received a two-year greencard based on marriage and have filed form I-751 to remove the conditions on your card, you can travel with the receipt notice that extends the expired card, your expired card, and a valid passport.
5.       An Employment Authorization Document (work permit) is NOT a permit to travel internationally.  If you have a work permit you need to consult with an attorney about any international travel because you likely do not have permission to reenter.  If you have a pending adjustment of status (I-485) and do not have a travel permit, any international departure will cancel out your pending application!
These lessons are very painful if learned the hard way.  We have compiled this list based on true stories and mistakes we've seen over the years.  Let us help you learn the easy way instead.  As always, call or text us with any questions. (855) 502-0555
Share this story!
Contact a U.S. Immigration Attorney Today!
How To Find Us
Austin Office
Lincoln-Goldfinch Law
1005 E 40th St
Austin, TX 78751

Waco Office
Lincoln-Goldfinch Law
1616 Austin Avenue, Suite A
Waco, TX 76701
By Appointment Only
What Our Clients Say
"This Lawfirm is great, very professional and helpful. I love that they are always in communication and always available for when you have questions . 100% recommended by me and my family. Thank you Lincoln-Goldfinch Law"