Things You Should Not Do After Filing For Bankruptcy
It may seem easy for some people to cheat their way through bankruptcy. Scheming and conspiring to ease yourself out of bankruptcy is unlawful. If you are caught, they may dismiss your petition and you could also face criminal charges. This can result in fines and five years behind bars. Non-individuals may have to pay a fine of up to $500,000.
You may not be aware that you've taken the wrong course of action, but it's important to be vigilant when filing to avoid potential charges. 
What To Avoid After Filing For Bankruptcy
There are conditions a debtor must remember both before and after filing for bankruptcy. Certain actions can land you in trouble, especially when they're unlawful. Be sure to avoid doing these after you file.
Deliberately Omitting Asset Information
Filing for Chapter 7 bankruptcy requires you to disclose all your assets and income. This allows the trustee to calculate what capacity you have to pay off your debts. Omitting assets may lead to denial of the petition and may even get you in legal trouble. 
Forgoing Legal Advice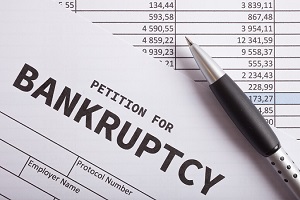 When filing for bankruptcy, some people make the common mistake of not seeking legal assistance to avoid additional fees. However, it is important to know that bankruptcy is not an easy process to comprehend. What is most important when you are filing for bankruptcy is to get the best possible outcome, and a bankruptcy attorney can ensure that you are able to get the best possible deal.
The very first thing an attorney can do is advise you on the best form of bankruptcy to file, may it be Chapter 7 or Chapter 13, as this will have a big impact on the outcome.
Giving Away Your Assets
If you try hiding your assets from trustees by giving them away to family members, they may look into your case further. There's the possibility of trying to get them back. Nearly 70% of bankruptcy fraud cases involve this method.
Giving away an asset to protect it is a surefire way to lose it. If you want to keep certain properties, Texas has exemptions that may allow you to do so. If you have $300,000 equity in your home, you can keep creditors and trustees from going after it with a homestead exemption. 
The Texas motor vehicle exemption does the same for your car. You can exempt one vehicle per licensed household member. In short, even if you file for Chapter 7, you can still keep exempt assets. 
Spending The Remaining Balance On Credit Card Purchases
Companies keep records of your transactions—they will take note of these during bankruptcy. If they see plenty of unusual purchases immediately before they are notified of your bankruptcy, your bankruptcy petition may be significantly affected.
Taking On More Debt
You won't expect debt to just happen and prompt you to file for bankruptcy. Debt creeps up over a period of time. During this period where bankruptcy is an ever more likely option, incurring additional debt can cause problems.
Legal Advice From A Seasoned Bankruptcy Attorney
Managing a lot of debt can be overwhelming. However, bankruptcy provides relief to people and allows them a second chance to manage their finances.
In filing for bankruptcy, it is smart to seek legal advice from an experienced bankruptcy attorney. Lincoln-Goldfinch Law assists with bankruptcy proceedings, from filing to managing your case after doing so. 
The firm's bankruptcy attorneys help you with lawfully filing a petition and making your case known in court. Be sure to consult with Lincoln-Goldfinch Law for bankruptcy assistance.
Summary
Certain actions can lead to problems with your bankruptcy petition. You shouldn't lie about your assets for one thing. In addition, giving away your properties before filing may prove to be problematic as you will be under further scrutiny. 
Incessant spending may have credit card companies object to your petition. Try to avoid incurring more debt after bankruptcy as well. For smoother processing of your case, consult with a bankruptcy attorney.
Austin Office
Lincoln-Goldfinch Law
1005 E 40th St
Austin, TX 78751

Waco Office
Lincoln-Goldfinch Law
1616 Austin Avenue, Suite A
Waco, TX 76701
By Appointment Only